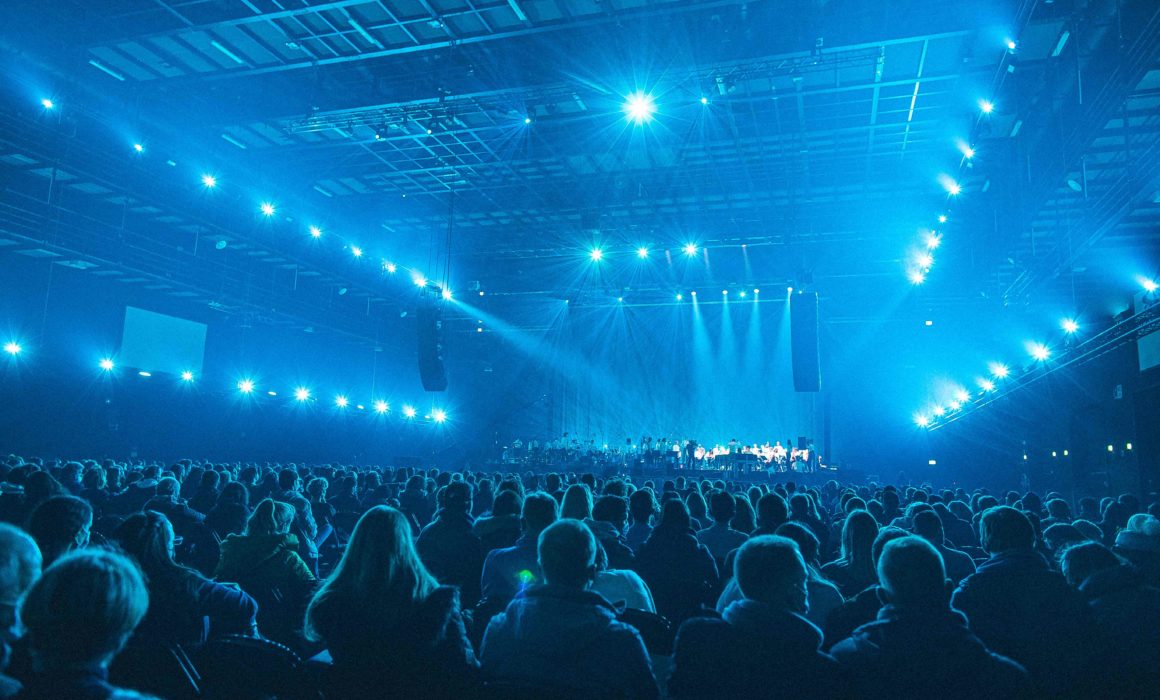 While music is available in abundance thanks to streaming services and consumers being bombarded with new releases from all over the world every day, one sound in particular often remains concealed: The music scene right in front of our own doorstep. What does your own city or even entire region sound like? Who are the people who make music their passion? What instruments and genres do they use? And who is creating the beats of tomorrow at their home? We have found a way to unite these grass-roots sounds of a city and bring them to life: We present Future Frequencies. 
Future Frequencies is the name of the new initiative from our Berlin-based creative studio, which successfully brought together and celebrated the diverse music scene of the European Capital of Culture Esch2022 in Luxembourg in February this year. We are now offering this format to other cities and regions that want to discover, support and sustain their up-and-coming musicians. 
Future Frequencies gathers enthusiastic sound creators of tomorrow into an eclectic mix of genres, personalities, backgrounds, generations and influences to reveal and celebrate the musical diversity of a region and give their sound a face and hearing never before discovered. 
The initiative is aimed at up-and-coming musicians and established amateur artists, instrumentalists or entire bands, DJs or singer-songwriters.Through an open call, they can apply for a series of workshops where they explore their own and collective sound. Creative openness or even outrageousness is strictly encouraged. The first edition of Future Frequencies in the European Capital of Culture Esch2022 showed how the outcome is eclectically well accomplished.
The first edition of Future Frequencies in the European Capital of Culture Esch2022 showed how the outcome is eclectically accomplished.  The project lasted about half a year – from the selection of participants to the intensive workshops and rehearsals to the final cross-genre concert, which no city has ever experienced before. The mix of the heterogeneous styles and characters produced a completely fresh, authentic and above all unique sound. 
The Esch2022 open call attracted musicians from all walks of life: choirs, ambient electro producers, a hurdy-gurdy player, a brass band, solo singers, a heavy metal band and a mandolin orchestra, to name just a few. The age of the participants ranged from 13 years to late 40s. In addition, individual existing institutions such as the music conservatory in Esch-sur-Alzette were involved. A total of 15 applicants were selected. 
For the implementation of the Future Frequencies format, we booked internationally renowned artists who accompanied the aspiring musicians as mentors. The project was led by Frank Wiedemann, founder of the Berlin label Innervisions, and the British producer Matthew Herbert as musical directors. Movement direction for the concert was handled by established Londoner Imogen Knight, and stage director was Gabriela Flores. Everyone shared Herbert's sentiments, "I didn't know anything about the region and its music when I came here, but I left with a really strong impression for the quality of musical diversity." 
In the workshop, led by Wiedemann and Herbert, the participants learned new ways to establish their personal sound, challenge their musical comfort zone and take their art to the next level. To do this, the singers collaborated with instrumentalists, songwriters put the region into words, or some producers actually collected noise samples around the city for their music. Their work was meant to answer the big question: What does the musical future of the region sound like? As an answer, Wiedemann and Herbert, in collaboration with the Future Frequencies participants, arranged a genre-spanning, unique soundscape using the material, sonically tied to the Esch region. 
The musical directors themselves were extremely pleasantly surprised by the result. Wiedemann reflected, "The initiative shows the impact cultural capital can have: Show what's there and then build on it. Go beyond the possibilities that are there, try to stretch the boundaries. There's so much going on here and so much talent. It's needed." 
"I've done a lot of concerts over the years and seen a lot of music, but I've never seen anything like this. The project was a risk, but because we all shared the risk, we created something interesting, unusual, really modern and thoughtful," Herbert said, summing up the initiative's work.  
The final Future Frequencies concert was performed as a continuous piece of music that took the audience on a journey through the multi-layered sound of the region. Genres were confidently intertwined and connected: From contemporary mandolin playing to ambient electro, from French rap to a Persian ballad, over 100 local musician performed the eclectic composition together on stage.  
One of the performers was amateur singer Olivier Crochet: "I work in the banking industry, it's not so open-minded there. We had really good mentors and it was great to work with everyone and create this concert."  
During Esch2022's opening ceremony, the Future Frequencies score was performed twice with an epic light and video show. The sound was captivating: Both times, the largest concert hall in Luxembourg, where Future Frequencies took place, was filled to capacity.  
Movement Director of the concert Imogen Knight explains the initiative's recipe for success this way: "It feels like you've brought together a community that has never met before. And with their music and their openness, we were able to create something really authentic that belongs to everyone, and that belongs exactly to Esch2022. That, to me, is what creation means." Future Frequencies laid a sustainable foundation for the region's music scene – for this year, but also for years to come. 
At battleROYAL Berlin, we initially developed the initiative to provide a unique platform for the music of the Esch region as an important cultural asset. Future Frequencies turned out to be so fruitful that we are offering this initiative to other cities and regions as well; in order to bring their musical scene together, and open up existing boundaries. Which city is going to create the next sound of the future? 
Want to get the latest updates? Then, follow us on Facebook, Instagram and LinkedIn.