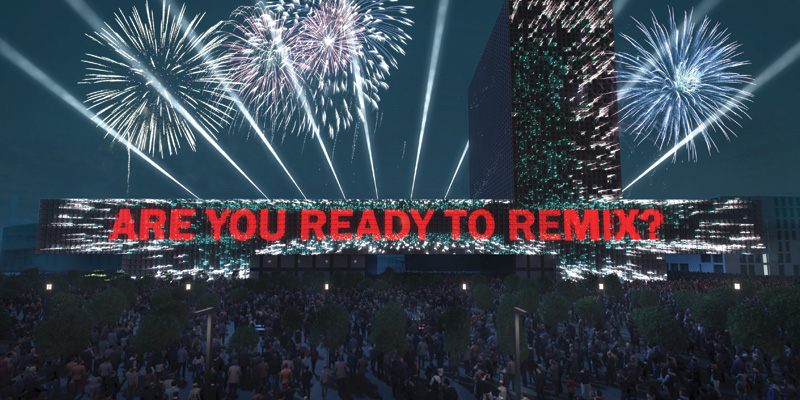 The European Capitals of Culture (ECOC) are designed to highlight the richness and diversity of cultures in Europe, increase a sense of belonging to a common cultural area and foster the contribution of culture to the development of the host cities.
Esch-sur-Alzette (Luxembourg), together with the 11 municipalities of the Pro Sud association and the 8 French municipalities of the CCPHVA, is awarded to become ECOC for 2022 and has announced its main theme of REMIX CULTURE as the key message motivating all activations.
ESCH 2022 OPENING CEREMONY
The opening ceremony is planned to take place on February 22, 2022, with battleROYAL appointed as the main producing partner.
The purpose of this cultural launch is primarily to bring the community together. Our concept involves an extended lead-up period which allows us to work with many community groups and local partners in developing relevant content and shared perspectives for the ceremony.
REMIX, AN IMMERSIVE PRESS CONFERENCE
For the official press launch on Feb 20, 2020, battleROYAL designed a unique event experience that immersed the guests and international press into a 3D world of sound, light, and VR. A maze-like event layout strategically delivered bite-size pieces of information about the key themes and program for the year.
IT'S ALL ABOUT REMIX
For the Esch 2022 program, participants are invited to explore the remix concept through four themes or categories – Remix Europe, Remix Nature, Remix Yourself and Remix Art –, and eventually create platforms for visitors to engage and participate in the discussion. The region will turn into an empowering space of co-creation and creativity.
To best introduce these themes battleROYAL produced an audio installation that is controlled by the visitor's position within the gallery space, allowing them to interact and remix the installation soundscape live as it tracks them around the room. This format and supporting technology can increase the retention of supplied information by 75% compared to more classical approaches. Visitors enjoyed a fun and focused engagement with the content and a clear desire to share their experience beyond the event.
A CEREMONY TEASER IN VR
A VR animation experience was designed to give the press and guests a deep understanding of the official opening ceremony for which battleROYAL will be responsible. "In virtual reality, we can provide the spectator a life-like glimpse of the ceremony from the front row seat, as if you were standing in the audience on the night 2 years from now," says Executive Creative Director Brendan Shelper, "it really is a game-changer and a remarkable tool we're using more and more often to express our detailed creative view on projects of this scale."
This dynamic VR ceremony teaser provides motivating insights how key sites around the city of Esch will eventually be activated.
We are looking forward to collaborating with the wonderful people of Esch and the surrounding regions over the next 2 years.
For more information on Esch 2022, head over to their website.