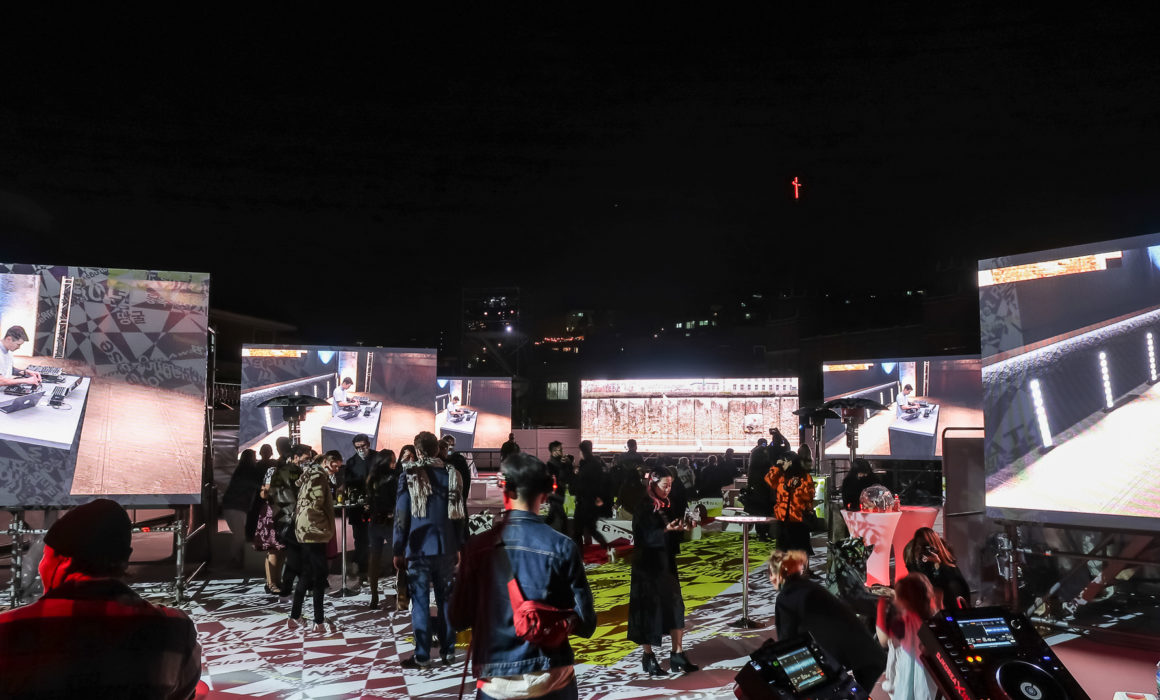 We are excited to share an interview with Tom Bueschemann, CEO of Platoon Global Communications. Tom was leading the onsite concepting and production of the 30th anniversary of German unification event "Garden of Unity" at the German embassy in Seoul, South Korea, where the hybrid experience of our Symphony of Now premiered on October 17, 2020. 
Symphony of Now – Hybrid Experience with Alex.Do was streamed as part of a series of acts that spoke to the idea of unity and community, which was this year's event theme. The event allowed people from the embassy's network to finally socialise safely after a long time. According to Tom, the celebration was a demonstration of how an event can look in times of Corona.
Speaking to Tom was important to us because this event is a great example of how large scale cultural events are possible in these times and can take place safely. Improving the audience's experience at such events with the help of hybrid solutions, as was the streaming of Symphony of Now, is also currently at the centre of our attention. 
battleROYAL: What was the concept behind this year's event at the German embassy in Seoul and how did Symphony of Now fit into it? 
Tom:  I'll tell a bit of the backstory, to make that clear. Last year for the anniversary of the fall of the wall we had a kind of "creative energy united" concept. The philosophy behind that concept was: the real reunification took place on the dance floors. 1989 there was the first Love Parade. Generally at the time, Berlin was full of techno music, illegal clubs were opening on every corner. There was an amazing creative energy released at that moment. Therefore, for the embassy event in 2019, we invited old-school DJs, did an exhibition around club culture and showed films like "Sound of Berlin". 
battleROYAL: And this year?
This year was supposed to be the second part in that series, but it was clear: clubs were now closed, so we needed to think of something else as a reference. We decided to switch to film and videos that dance around the concept of "unity and community" more broadly. During the 3-day-long event we showed all sorts of films and the hybrid Symphony of Now, which fit perfectly.      
battleROYAL: What was the exact technical setup?
Tom: We installed six huge LED walls on a 1000 square meter rooftop in the middle of Seoul, because one show part required that setup. Symphony of Now was often shown on the middle screen, which was 9 meters wide and 3 meters tall. 
battleROYAL: Did people enjoy it? 
Tom: Absolutely, with Alex.Do it often seemed like a real-life DJ. We often showed Symphony of Now at the end of the evening. People had their headphones on to limit the noise in the residential area, which turned it into a kind of silent disco. And Symphony of Now had just been produced very well: great images.
battleROYAL: Who were the guests?
Tom: For the opening there were invited guests from culture, business and politics and the new ambassador, too. After that, whoever registered could attend. It was great for people to finally be able to have a party again, talk, socialise with all sorts of different people in a safe environment.
battleROYAL: How did you assure it was safe?
Tom: It was a huge space and you could always keep social distance. Everything was touchless. People got white gloves for the handrail, everything was opened for them, food was given out to them. They didn't have to touch anything. And it looks like it worked well, because there is no Corona case that can be traced back to our event.
battleROYAL: We're there other measures to track attendance for instance?
Tom: Yes, we had also programmed an extra App with a QR code for registration. We then requested people to register in advance with that code. At the entrance visitor's temperatures were measured. Everyone's data was collected beforehand too of course, at the online registration, so that in the case of a corona cluster, we could have immediately provided all the guests with information. 
battleROYAL: How many people were allowed to attend at the same time?
Tom: There were a hundred entries a day, but there were always only a hundred people on the roof at a time. Not a lot. Imagine, usually 1000 to 2000 people come and celebrate the reunification. It's a highlight for every embassy in every country, including here in Seoul. But this was as good as the only event in the world the Foreign Ministry approved. 
battleROYAL: And why were you allowed to go ahead with the event?
Tom: Because the Corona situation in Korea or Seoul is relatively low. We have 50 new cases all over Korea today. The government has issued a recommendation that up to a hundred people can gather outdoors, 50 people indoors. And we strictly adhered to these regulations. 
battleROYAL: So overall, what did you learn from staging Symphony of Now in Seoul?
Tom:  At the event in Seoul we learned that an event can be touchless, open air and can allow safe access. It was a great test of how we might meet in the future. 
Want to get the latest updates? Then, follow us on Facebook, Instagram and LinkedIn.