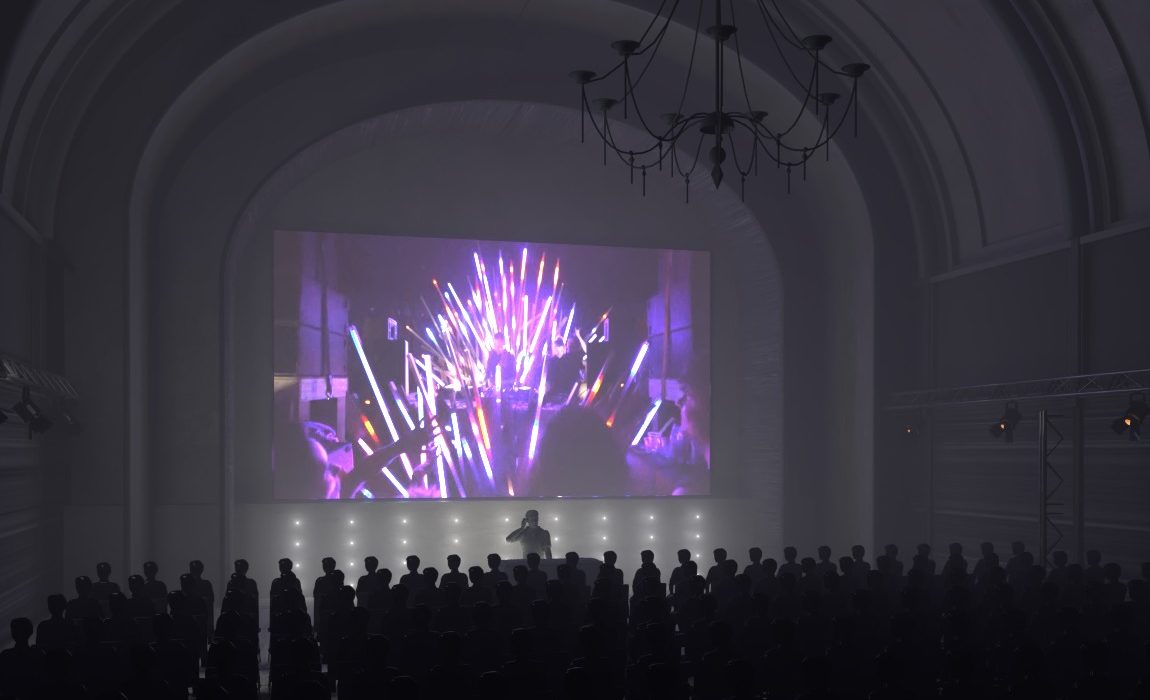 We are celebrating the premiere of 'Symphony of Now – Hybrid experience with Alex.Do' with a walk down memory lane. Thalia Davies, Project and Tour Manager at battleROYAL, shares the very beginnings of how this new format came about.
battleROYAL: Briefly describe the planned project you were working on?
Thalia: I was working on a tour of the film "Symphony of Now" with Alex.Do performing the soundtrack live. Due to the generous support from the German Federal Foreign Office we were scheduled to take it on the road to 7 different cities across the USA in mid-March, including showcasing it at SXSW in Austin Texas.
battleROYAL: When did you know for sure the project would be cancelled? And how did you handle that moment?
Thalia: One of our anchor shows (SXSW) was cancelled a week prior to our departure. Unfortunately, on the day we set off from Berlin to Houston, the USA announced a European travel ban, and before our first connecting flight in Paris, we had a crisis call with management from battleROYAL. 
We were so close to boarding the next flight, but it was clear the situation was deteriorating and could get much worse, plus we were unsure if our insurance would cover this unique situation.
So with a heavy heart, after months of organisation and planning, we decided, at the gate, to pull our luggage off the connecting flight and return to Berlin. 
Sitting in that airport terminal in Paris waiting for our flight to Berlin I started the arduous task of cancelling all our shows and logistics. Tour planning is difficult, cancelling a tour on the road in the middle of a pandemic is even trickier. Remaining calm in that moment is key. Fortunately, everyone we were dealing with was empathetic to the situation. 
battleROYAL: When did you expect to pick the project back up?
Thalia: Hopefully as soon as possible, however, given the uncertain climate regarding international travel realistically it is unlikely many (or any) live events will happen in 2020. We are looking towards 2021. 
battleROYAL: Will the project happen in the near future? If so, was there a pivot involved?
Thalia: We have been able to pivot into the digital space and created a virtual cinema where the real Alex.Do could exist along side the film. We shot Alex on a green screen whilst he played the entire set live. Our very first hybrid experience show premiered this past Saturday, October 17, 2020 in none other than Seoul, South Korea.
battleROYAL: How might that pivot support or challenge the project?
Thalia: Of course, online events can never fully replace the elements of performing in front of a live audience, but the current technologies we are employing will help us to reach an even wider audience. Ideally, post Covid-19, we can establish it as a hybrid event format, reaching a symbiotic relationship between our live shows and our streamed shows.
battleROYAL: What was the biggest thing you have missed during the Covid-19 period? 
Thalia: I've really missed connecting with my friends and family in person, but now that makes me appreciate those little moments even more!
Want to get the latest updates? Then, follow us on

Facebook, Instagram

and

LinkedIn

.